Like Chaff in the wind
Year:2010

Materials: Oil paint on stretched Canvas

Size :170w/110h cm
 Original Painting  – Price $35,000
Scanograph at original size $8,500
Signed Lithographs: Available in differt sizes starting at $250
"Like chaff that the wind drives away" – Psalms 1, paragraph 2
"The wicked are not so, but are like chaff that the wind drives away. Therefore the wicked will not stand in the judgment, nor sinners in the congregation of the righteous; for the Lord knows the way of the righteous, but the way of the wicked will perish."
David's prayer in the Book of Psalms continues, describing what will happen to the wicked because of their wickedness.
The text is part of the Book of Psalms series, written in the ancient Hebrew script, without vowel letters.
Buy the "
Like a Chaff in the Wind" Painting
This Original Painting is available and you can also buy high quality Scanograph and lithographs
produced in limited edition by the artist herself
* All paintings comes with a certificate of authenticity
* Llithographs are also hand signed on painting back side
International Shipping is included in the price 
פסקה שנייה בספר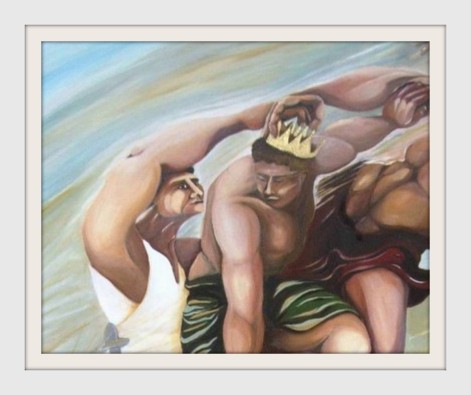 תהילים
"לא-כן
הרשעים: כי
אם-כמוץ,
אשר-תידפנו
רוח.
על-כן,
לא-יקומו
רשעים–במשפט;
וחטאים,
בעדת צדיקים.
כי-יודע
יהוה, דרך
צדיקים; ודרך
רשעים תאבד."
בתמונה ציירתי את השליט
העליון ולציידיו עוזריו כביכול עוזרים לו
אבל למעשה מנסים לקחת את הכתר מראשו.
מאבק כוחות בצמרת ,
הכיעור והשחיטות . שבשלטון.המגילה שמקשרת את ציורי
הסדרה עפה יחד איתם כמוץ ברוח
כולי תיקווה שאכן הרוח
תהדוף את הרשעים כמוץ ברוח
הפסקה כתובה בכתב עברי
עתיק ללא אותיות האוי