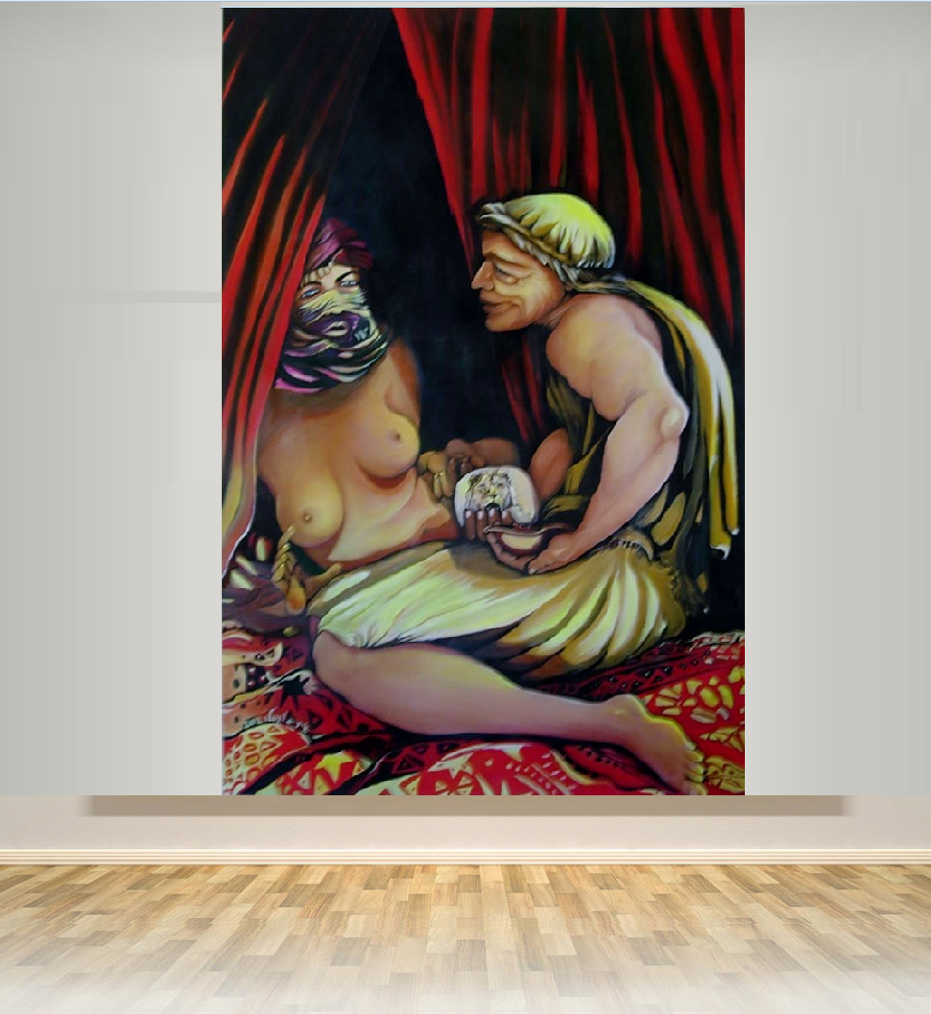 Tamar and Judah
Year:2012

Materials: Oil paint on stretched Canvas

Size :170h/110w cm
 Original Painting  – Price $35,000
Scanograph at original size $8,500
Signed Lithographs: Available in differt sizes starting at $250
"Tamar's deed with Judah" – Genesis 38, 18

"He said, "What pledge shall I give you?" She replied, "Your signet and your cord and your staff that is in your hand." So he gave them to her and went in to her, and she conceived by him."

 

I painted the negotiations between Tamar and Judah. I think that Judah recognized Tamar and took pity on her. Who gives his signet to a whore? It's as if he gave her his credit card. Sex is a bargaining chip between a man and a woman in a certain kind of relationship and in different kinds of situations.
–יהודה ראש שבט יהודה הביא את תמר הכנענית לבנו הגדול ער לאישה לאחר מותו של ער ניתנה לאחיו אונן
שגם הוא מת
יהודה שולח את תמר לבית אביה עד שיגדל בנו הצעיר שילו לשאתה,
תמר רואה ששילו גדל ויהודה שבינתיים התאלמן לא קורא לה,
לכן החליטה לעשות מעשה,
היא ידעה מתי עובר יהודה מחג הגז ,היא הקימה אוהל והתחפשה לקדשה (זונה)
ופיתתה את יהודה לבוא ולשכב איתה,
בציור אני מתארת את המשא ומתן בינה לבין יהודה ואת הפחד מתגובתו
לדעתי יהודה זיהה את תמר והסכים לבוא אליה ,
למרות שאסור לחותן לשכב עם כלתו בזמנו היו סוקלים את שניהם,
בציור אני מתארת את הרצון של יהודה לשכב עם תמר ואת הרצון של תמר להיכנס להריון מיהודה,
בספר התנ"ך מסופר שיהודה נתן לתמר את החותמת שלו את הפתיליות ואת המטה שלו,
זה כמו לתת היום לזונה את כרטיס האשראי ומפתחות הבית והאוטו עבור משכב אייתה,
את הציור החלטתי לצייר לאחר סקיצות רבות בנושא המשא ומתן המורכב בין הגבר לאישה, לאחר
שסגרתי דלת בזוגיות שחייתי בה 15 שנים ,
Buy the "
Samson's Parents" Painting
This Original Painting is available and you can also buy high quality Scanograph and lithographs
produced in limited edition by the artist herself
* All paintings comes with a certificate of authenticity
* Lithographs are also hand signed on painting back side
International Shipping is included in the price